Children Love Forest Chiropractic Wellness Centre
We love caring for families and particularly enjoy caring for children. Our youngest practice members look forward to their chiropractic visits where they can play with toys or read a story book and pick a prize from our treasure box. Most of all they love how much better they feel after their adjustment!
Dr. Keith (Chiropractor) has advanced postgraduate training in the areas of paediatrics, pregnancy care and wellness lifestyle, so you can be assured that your little ones are in qualified, effective, and safe hands.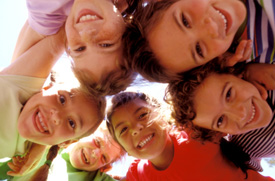 Why chiropractic for kids?
The importance of spinal health and spine-related quality of life is not limited to adults. Children and infants have the same pain and motion receptors in their spines and neuromusculoskeltal systems which can lead to spine-related pain and loss of quality of life – infants and children feel pain and they deserve proper spinal care.
What can cause a spinal problem in your child? Children can suffer significant neuromusculoskeletal traumas from their birth process especially when interventions such as forceps, vacuum extraction and c-section are used. Their developing spines are also exposed to repetitive traumas in day to day life including poor sleeping postures, falls, prolonged sitting, extended use of tablets and smart phones, sporting injuries and other stressors.
Gentle chiropractic care appropriately modified for the developmental age of infants and children has been shown to be clinically effective. And don't worry, we don't "crack" spines. Dr. Keith uses modern gentle techniques that allow him to improve spinal function comfortably, without having to contort the body.
Everyone can benefit from the expert advice and high-quality care of a chiropractor. So why not count your family among the millions of others who have already benefited. We offer same-day appointments at our wellness centre. Contact us today!
---
Forest Chiropractic Wellness Centre | (02) 9453 3233